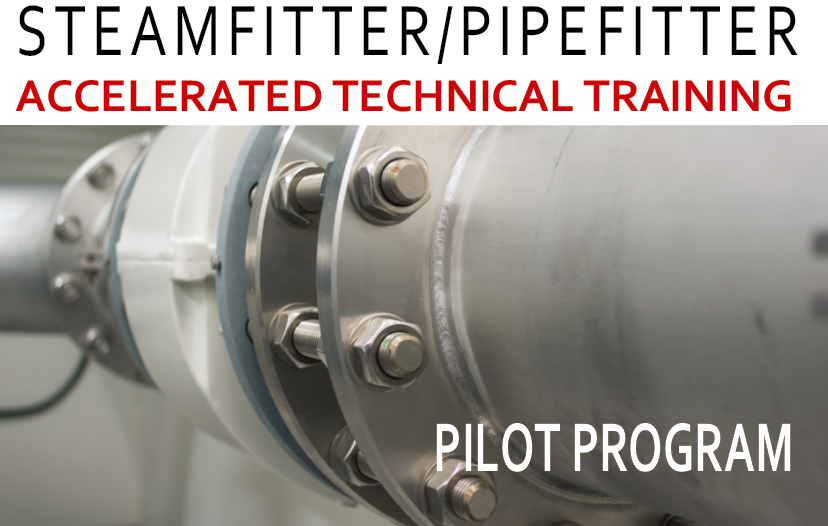 Apprentices
This program is for you!
Get certified through blended learning and advance your career as a Steamfitter/Pipefitter.
Complete a portion of your training online. You can study at your own pace, on a schedule that meets your needs! Attend classroom training at TRU. The program will help you acquire in-demand skills and complete Red Seal certification requirements.
Program Description
This program provides Steamfitter/Pipefitter apprentices with Level 3 and 4 training through blended learning. It combines online and classroom training so apprentices can complete the program with less time spent in school. The program also offers job placement, work rotation and gap training (where applicable). This pilot program will be delivered  between November 2016 and March 2018. The total time apprentices will be away from work will be decreased from 14 weeks to 10 weeks. The program will engage companies who employ Steamfitter/Pipefitters and offers employer and apprentice support throughout.
EMPLOYERS
This program is for you!
Are you interested in a program that can help you reach your skilled trades training and hiring goals? Do you employ steamfitter/pipefitters? This program will help your current apprentices achieve their certification and provide you with access to qualified Level 3 steamfitter/pipefitter apprentices. Register your apprentices in this innovative program and they will complete their technical training with less time away from work.

How Accelerated Technical Training Works
Accelerated training shortens the classroom training time through blended learning. Apprentices will complete a portion of their training online and then will attend school to do the practical. The program aligns training and return to work schedules to accelerate completion of work-based hours required for certification. 
Four 15-student cohorts will be trained throughout November 2016 and March 2018. There is no waiting list for eligible apprentices. Next training cohort - September 11, 2017 to January 26, 2018. The dates for the following cohorts will be announced in January 2018.
Complete your apprenticeship with less time away from work!  This innovative program blends online and in-class learning so you spend less time in the classroom. Contact SkillSource for more information on how you can complete your apprenticeship faster!
How To Qualify
You must be currently registered as a steamfitter/pipefitter apprentice; finished Level 2 technical training; and, committed to completing your apprenticeship.  If you have two or more years (2,800+ hours) working as a steamfitter / pipefitter but have not finished Level 2, you may still qualify.